Nestled between Dunning Street and Jackson Street on Atwood Avenue, right along the Capital City Trail in Madison, Wisconsin, sits a grinning larger-than-life mushroom and a bright blue and red dragon urn. The creator of this public art is Sid Boyum, artist and eccentric extraordinaire, whose public art has been delighting Madisonians since the 1960s. Sid was a prolific artist with works that extended far beyond his public art; he was undeniably creative with visionary and artistic friends. His home was a veritable wonderland filled with art of all kinds, his and friend's alike.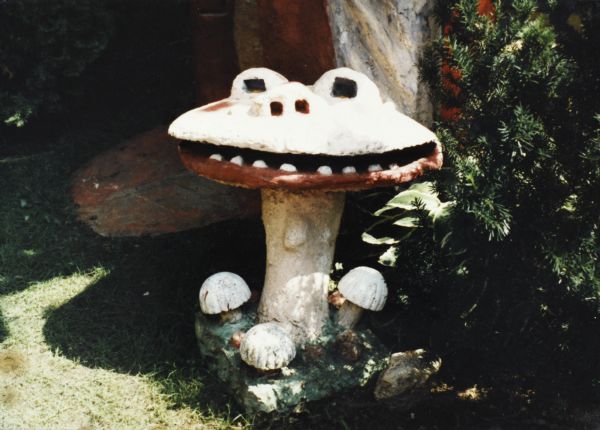 Man Eating Mushroom, Wisconsin Historical Society, Image ID: 123956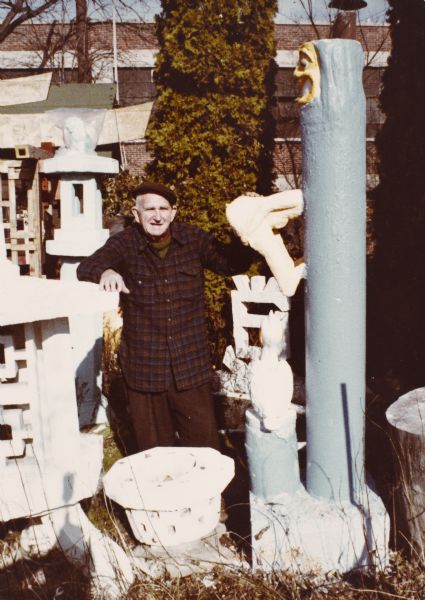 Sid Boyum with Blue Pillar Sculpture in His Backyard, Wisconsin Historical Society, Image ID: 123950
Gnome-Face Sculpture in Sid Boyum's Backyard, Wisconsin Historical Society, Image ID: 124015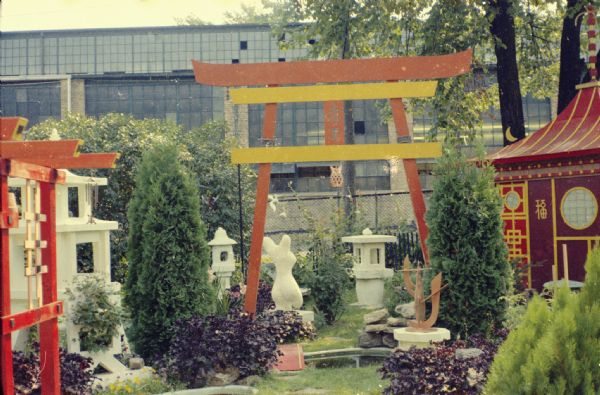 Sid Boyum's Backyard, Wisconsin Historical Society, Image ID: 123263
After his death, Sid's home sat uninhabited for nearly 15 years. In the summer of 2015 the Wisconsin Historical Society (WHS) was contacted by Mark Fraire of the Dane County Cultural Affairs Commission asking for help reviewing the contents of Sid's home. Originally the home was intended to be auctioned, but the Commission recognized the importance of Sid's art as part of Madison's history and sought to ensure it would be freely available to the public. The Dane County Treasurer agreed to delay the sale of the home for a year.  A non-profit organization, Friends of Sid Boyum, was created to raise the $20,000 required to purchase Sid's home before the auction date in August 2016.
What WHS found in Sid's home was a beautiful mess. Headed by Andy Kraushaar and David Erickson, staff found rooms packed with original artwork, books, photographic prints and negatives, film, equipment, and artwork created by Sid and Steve Boyum, Sid's son. The materials within the home withstood years of fluctuating temperatures, animal destruction, and general decay. The physical condition was so poor staff and volunteers wore face masks and gloves to protect themselves while assessing materials. With permission from Dane County, after several sweaty summer visits to the home, staff decided to collect materials most closely fitting WHS's mission; taking all the photographic material as well as original paper art and films created by Sid. Until title and intellectual property rights can be determined, ownership of the materials remains with Dane County. Friends of Sid Boyum were able to arrange for alterative housing at Paul Davis Restoration for much of the remaining materials.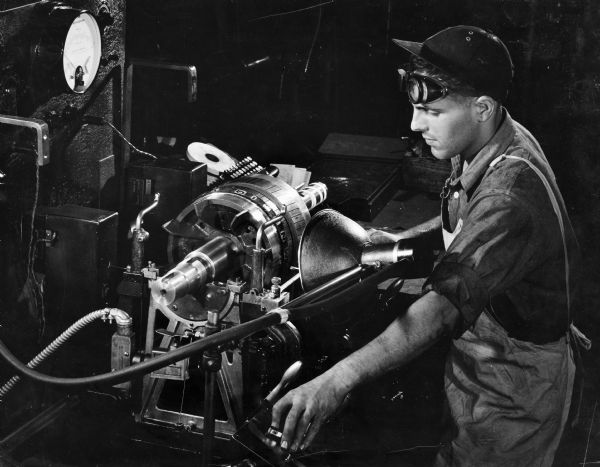 Man Operating Man Operating Gisholt Type S Dynetric Balancer, Wisconsin Historical Society, Image ID:124090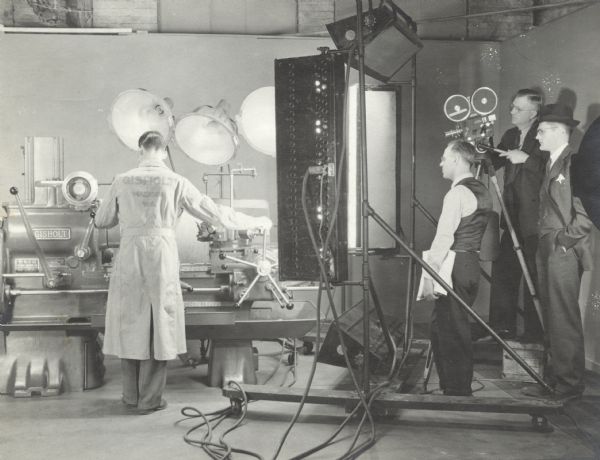 Gisholt Movie, Wisconsin Historical Society, Image ID: 122708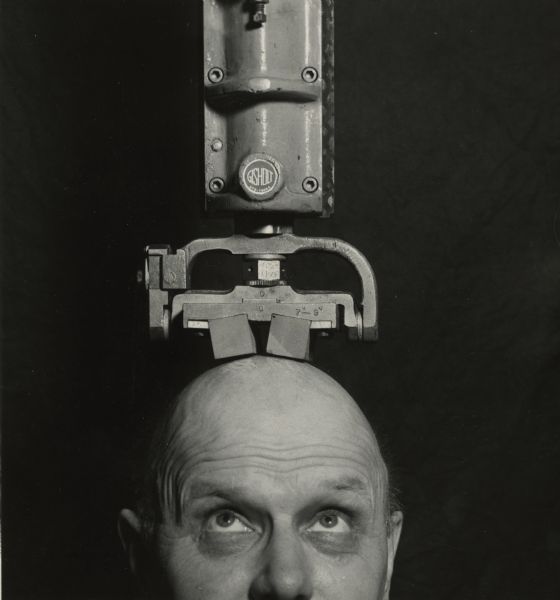 Gisholt Machine on Man's Head, Wisconsin Historical Society, Image ID: 122047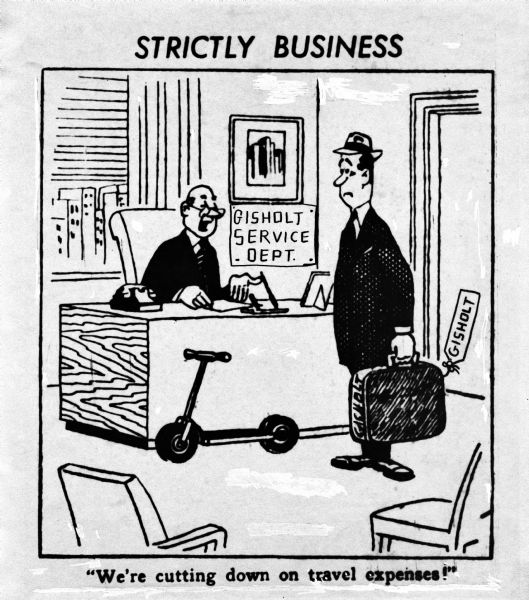 "Strictly Business", Wisconsin Historical Society, Image ID: 123546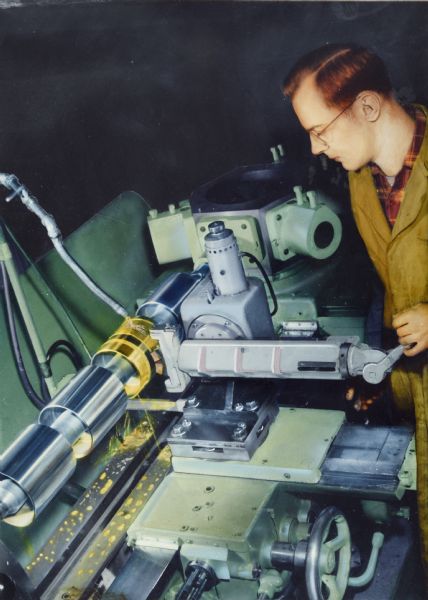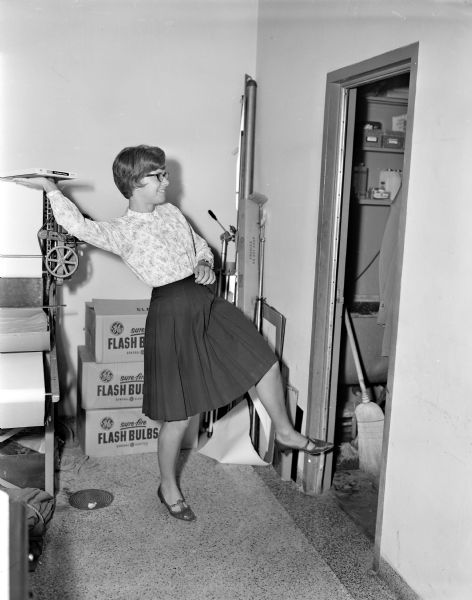 Man Operating Machinery, Wisconsin Historical Society, Image ID: 124762
Woman Posing in Gisholt Darkroom, Wisconsin Historical Society, Image ID: 122738
WHS collected Sid's commercial photography and graphic artwork he produced while employed at the Gisholt Machine Company, slogans, greeting cards, and advertising signage for neighborhood businesses, and satirical and political cartoons created for Ducks Unlimited and the Ice Chippers. Also included in the materials are opening day fishing posters, which Sid created for The Wisconsin State Journal and the Capital Times' Sports Section every April between 1963-1989. These posters are whimsical, surreal, and bizarre. Many of the photographs collected were made by Sid, for use as inspiration for the fishing posters.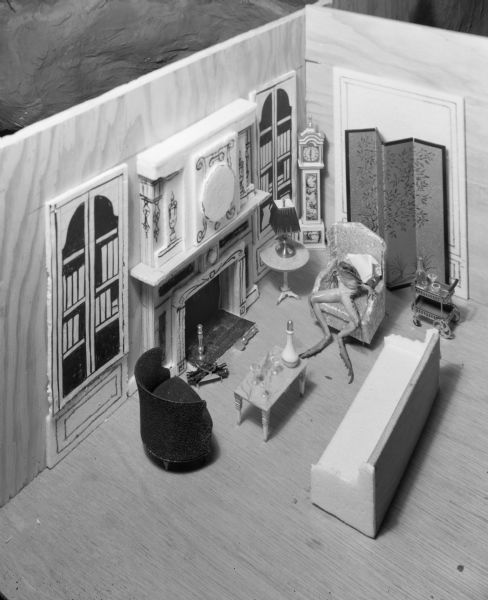 Frog in Model of Living Room, Wisconsin Historical Society, Image ID: 121874
Opening Day Fishing Poster, Wisconsin Historical Society, Image ID: 121625
Once materials arrived at WHS many needed to be treated in containers filled with volcanic rock to remove odor before they could be handled. WHS has a strong relationship with the University of Wisconsin-Madison School of Library and Information Studies, and as luck would have it a class on archives and community engagement was being taught in the fall of 2015 by Amy Sloper. Student's from the course worked closely with WHS staff to digitize and catalog materials nearly 1000 images taken from Sid's home. To date formats digitized include:
4x5 negatives and transparencies
8x10 photographic prints
Color negative
Color slides
Posters
Miscellaneous paper print art
Greeting cards
Color prints
Large format art
Cartoons
Scrapbooks
Commercial materials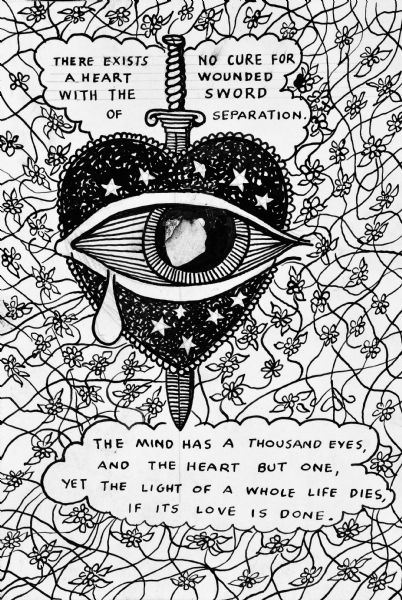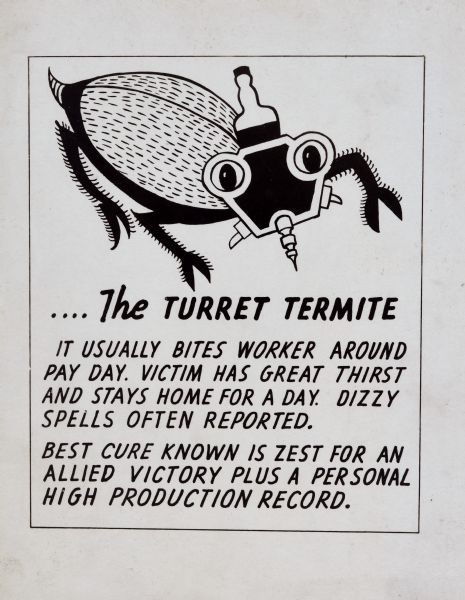 Drawing of an Eye, Heart and Sword, Wisconsin Historical Society, Image ID: 123434
".... Turret Termite", Wisconsin Historical Society, Image ID: 124087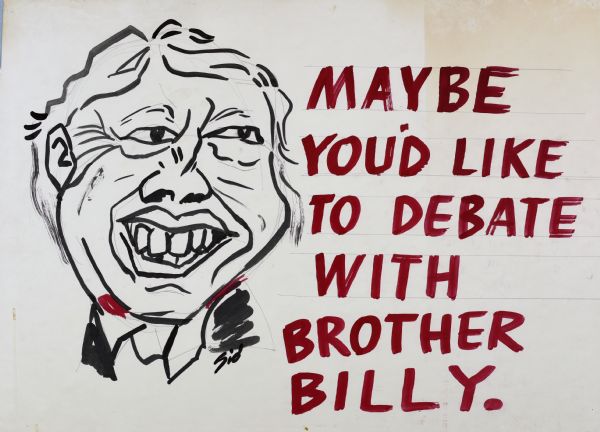 "Maybe You'd Like to Debate...", Wisconsin Historical Society, Image ID: 124327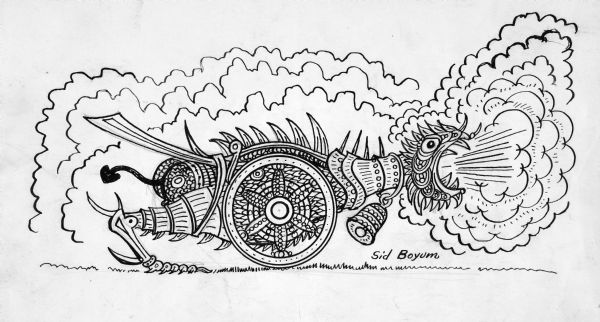 Fire-Breathing Dragon, Wisconsin Historical Society, Image ID: 123393
The combination of professionals from WHS, library students, and a grassroots nonprofit organization created the perfect opportunity to collaborate in saving part of Madison's history. Involvement with a community organization has given WHS the opportunity to showcase their digitization capabilities and online resources.  Students acquired hands-on experience digitizing and cataloging, but also learned how to organize, manage, and backup a large scale digital project.  Friends of Sid Boyum gained a knowledgeable advisor and ally in WHS to preserve deteriorating materials.
Digitization of the materials is nearly complete. Next steps for the materials will be processing the collection, which expands beyond materials chosen for digitization and contain items deemed too personal to digitize. Currently one student is working on the project; staff hope to recruit more students in the fall when classes are back in session. Friends of Sid Boyum are still working toward their fundraising goal. They hold frequent events including a guided bike tour of Sid's statues and a night of music at Harmony Bar in Sid's old neighborhood.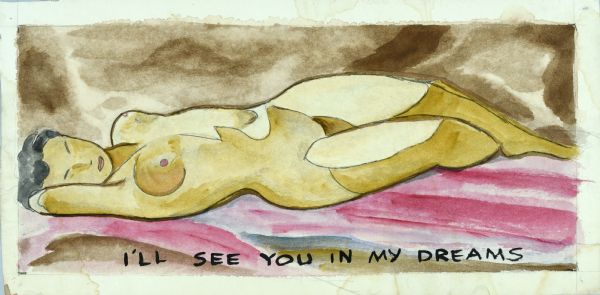 "I'll See You in My Dreams", Wisconsin Historical Society, Image ID: 124240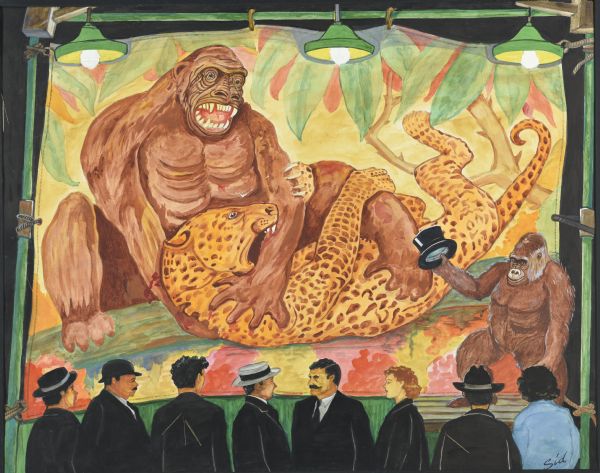 Gorilla and Leopard Painting Exhibit, Wisconsin Historical Society, Image ID: 124759
My own involvement with this project has been a very entertained onlooker. The materials in Sid's collection are fabulously strange and entertaining, regardless of whether Madison is your home or not. Thanks to Andy Kraushaar and Dave Erickson for chatting about their work and sharing project notes.
Photo Booth Images of Sid Boyum, Wisconsin Historical Society, Image ID: 121425
Sid Boyum Paining a Mural, Wisconsin Historical Society, Image ID: 122762