New book presentation: Andrii Portnov "Dnipro: An Entangled History of a European City" | June 27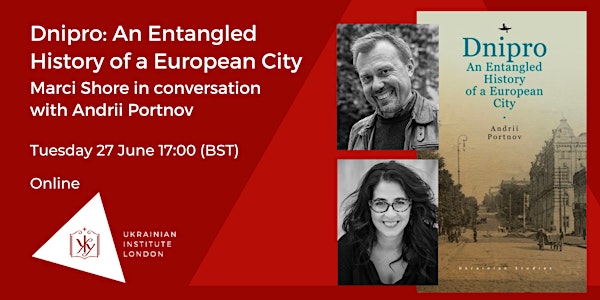 Andrii Portnov on Dnipro: An Entangled History of a European City
Join us to hear Andrii Portnov discuss the entangled history of Dnipro in conversation with Marci Shore.
Speakers 
Andrii Portnov is Professor of Entangled History of Ukraine at the European University Viadrina (Frankfurt/Oder), Director of the PRISMA UKRAЇNA Research Network Eastern Europe and a member of the Ukrainian PEN-Club. He graduated from Dnipro (M.A. in history) and Warsaw (M.A. in Cultural Studies) Universities, and defended his PhD dissertation (2005) at the Ivan Krypiakevych Institute for Ukrainian Studies in Lviv. Since 2012 he conducted research and lectured at the Universities of Basel, Cambridge, Geneva, Potsdam, Free University Berlin, Free University Brussels, Humboldt University of Berlin, SciencesPo Paris, SciencesPo Lyon, Institute for Human Sciences (IWM) in Vienna, Institute for Advanced Study (WIKO) in Berlin. He is the author and co-editor of ten books and numerous articles on intellectual history, historiography, urban history, genocide and memory studies.
Marci Shore teaches modern European intellectual history. She received her M.A. from the University of Toronto in 1996 and her Ph.D from Stanford University in 2001; she taught at Indiana University before coming to Yale. Her research focuses on the intellectual history of twentieth and twenty-first century Central and Eastern Europe. She is the translator of Michał Głowiński's The Black Seasons and the author of Caviar and Ashes: A Warsaw Generation's Life and Death in Marxism, 1918-1968, The Taste of Ashes: The Afterlife of Totalitarianism in Eastern Europe, and The Ukrainian Night: An Intimate History of Revolution. In 2018 she received a Guggenheim Fellowship for her current book project, a history of phenomenology in East-Central Europe, tentatively titled "Eyeglasses Floating in Space: Central European Encounters That Came about While Searching for Truth." She is a regular visiting fellow at the Institut für die Wissenschaften vom Menschen in Vienna. Presently she is co-curating a Public Seminar/Eurozine forum "On the Uses and Disadvantages of Historical Comparisons for Life".
To access the event and get more details, please follow the link: https://www.eventbrite.co.uk/e/andrii-portnov-on-dnipro-an-entangled-history-of-a-european-city-tickets-649078771077