ANN: Marcos Grigorian: pioneer of Iranian modern art (May 9)
Magic Of Persia in collaboration with the British Museum
Marcos Grigorian: pioneer of Iranian modern art 

Sunday 9th May 5-6:30pm (BST), London
For more information and to book please click here
Marcos Grigorian (b. 1925), Untitled, 1963. Ink on paper. Funded by CaMMEA © The estate of the artist
 
Join chair Venetia Porter, curator of Reflections contemporary art of the Middle East and North Africa, and a distinguished panel of speakers – Layla S Diba, Yvette Tajarian, Elizabeth Rauh, Vali Mahlouji and Siavash Sabba – as they explore the life and work of this remarkable man. The speaker presentations will be complemented by archive film and accounts from friends who knew him.
Of Iranian and Armenian heritage, Marcos Grigorian was born in Kropotkin, southern Russia in 1925, and died in Yerevan in 2007. Trained at the Honarestan-e Kamal al-Molk in Tehran, he studied at the Academy of Fine Arts in Rome and is best known for his abstract 'Earth Works', using clay and straw obtained in Iran and Armenia. He also drew prodigiously, and several early drawings are in the British Museum collection and part of the exhibition Reflections contemporary art of the Middle East and North Africa.  A towering figure in the arts of modern Iran, he founded the first Tehran Biennial in 1958 and had galleries in Tehran, New York and Minnesota. An influential teacher at the Faculty of Fine Arts at Tehran University, he was also a collector, and revived the traditional art of coffee-house painting. An active side line was as an actor in Iranian films from 1960. 

PANELISTS


Layla S. Diba
Layla S. Diba is an independent art advisor, scholar and curator specializing in the art of 19th and 20th century Iran. She has been the Director and Chief Curator of the Negarestan Museum of 18th and 19th century Iranian Art in Tehran from 1975-78 and the Brooklyn Museum of Art's Curator of Islamic Art from 1990-2000 where she organized the groundbreaking exhibition Royal Persian Paintings: The Qajar Epoch (1785-1925) and edited and co-authored the accompanying publication.
In 2013 she co-curated the exhibition Iran Modern at Asia Society Museum in New York and co-edited the accompanying catalogue.She has written widely on Persian and Islamic Art and her current projects include the publication of Art in Peril: The Case of the Negarestan Museum and its Collections of 18thand 19thcentury Iranian Art.



Vali Mahlouji
Vali Mahlouji is a curator, advisor to the British Museum, Art Dubai Modern, Bahman Mohassess Estate and director of Kaveh Golestan Estate. He is founder of Archaeology of the Final Decade (AOTFD), a non-profit curatorial platform that focuses on recovering erased histories and has placed artworks at major international institutions including Tate Modern and Smithsonian Institute. Mahlouji has curated extensively, including: Unedited History: Iran 1960-2014 at Musée d'Art Moderne Paris and MAXXI Museum in 2014-5. His Utopian Stage exhibition at Whitechapel Gallery was nominated for Best Exhibition by the Global Fine Arts Awards in 2015. He recently curated an extensive exhibition at Sursock Museum in Beirut entitled Baalbek: Archives of an Eternity surveying ten thousand years of history of Baalbek. His forthcoming book A Utopian Stage will be published by Whitechapel Gallery in 2021.




Venetia Porter
Venetia Porter is the British Museum's senior curator for the Islamic and contemporary Middle East art collections, and Honorary Research Fellow at the Courtauld Institute of Art. She studied Arabic, Persian and Islamic Art at the University of Oxford, and her PhD from the University of Durham is on the history and architecture of medieval Yemen. She was the exhibition curator for Hajj: journey to the heart of Islam(2012) and the lead curator for the Museum's Albukhary Foundation Gallery of the Islamic world
(Opens in new window) (2018). 
She curated the current exhibition Reflections: contemporary art of the Middle East and North Africa, and co-authored the accompanying book with Natasha Morris and Charles Tripp, published by British Museum Press.



Elizabeth Rauh
Elizabeth Rauh is Assistant Professor of Modern Art and Visual Cultures at the American University in Cairo. Specializing in modern arts and visual cultures of Iran, Iraq, and Western Asia, her work examines artist engagements with Islamic heritage, popular image practices and technologies in Shi`i Islam, and arts of the twentieth-century "Shi`i Left." She also pursues research in ecological art practices in the history of the Persian Gulf, such as in her forthcoming study: "Experiments in Eden: Midcentury Artist Voyages into the Mesopotamian Marshlands" (Journal of Contemporary Iraq & the Arab World, Summer 2021). Her research has been funded by The Academic Research Institute in Iraq, the Darat al Funun Center for Modern and Contemporary Arab Art, the Max Weber Foundation, and the Andrew W. Mellon Foundation.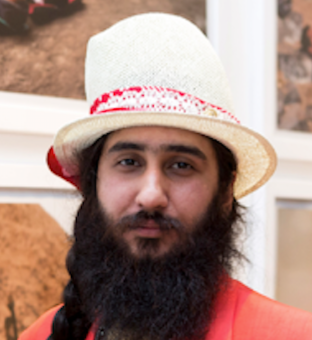 Siavash Sabba
Siavash Sabba is a director and producer at Manoto, a popular international Persian TV brand with headquarters in London. Since its launch 10 years ago, he has played a key role in the channel's entertainment sector and wrote and directed its first feature film Lie of the 12th, a film with music and poetry which came out in 2019.



Yvette Tajarian
Yvette Tajarian is Associate Professor at Yerevan State University and Senior researcher at the Department of  Oriental studies at Matenadaran, the Mesrop Mashtots Institute of Ancient Manuscripts in Yerevan.  She is also a Member of the Scientific Council of the Quarterly Cultural Journal of Peyman (Tehran). Her research and publications which include articles and  several monographs, cover Armenian and Persian Fine Art, Contemporary Iranian art and Photography.  She has curated a number of exhibitions on Andre Sevrugian (Dervish) at the Golestan Palace Museum in Tehran (2002) in Frankfurt (2008-9) and at Matenadaran in Yerevan (2016) where she has also organised an exhibition of Persian manuscripts from the museum's collection (2016-17). She is currently working on a book on Qajar art in the collection of the Matenadaran.
 

Here is the link in case you didn't catch it. 

https://www.britishmuseum.org/events/marcos-grigorian-pioneer-iranian-modern-art