ANN: Transcript of Khrushchev-Castros First Meeting
From: nsarchiv@gwu.edu
Getting to Know the Cubans: Khrushchev Meets the Castro Brothers
Raul Castro wanted detailed Soviet security assurances, expected U.S. intervention
Khrushchev insisted intervention unlikely, urged flexibility on Cuba's part
Soviet leader promised to fully replace U.S. as trade partner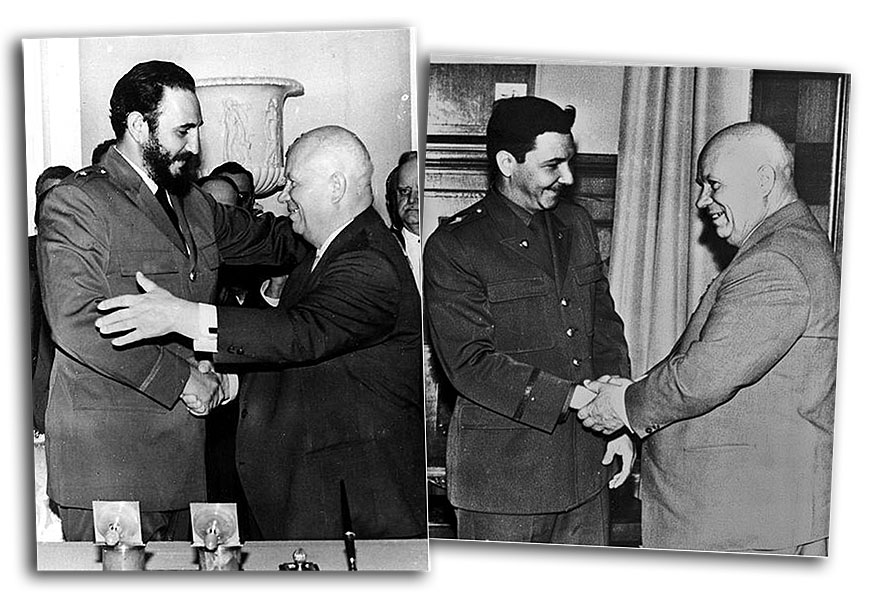 Washington, D.C., October 14, 2022 - Today the National Security Archive publishes for the first time in any language a translation of the first meeting between Soviet Premier Nikita Khrushchev and Cuban Defense Minister Raul Castro on July 18, 1960. The newly available transcript helps explain Khrushchev's 1962 determination that defending Cuba from U.S. intervention would require a massive Soviet military base in Cuba, together with the deployment of nuclear weapons. The Cuban leader asks for details of how the USSR could protect Cuba, but Khrushchev insists on restraint and flexibility, saying that he does not want a "big war."
In their first face-to-face meeting in Moscow, Khrushchev advises the Cuban defense minister against taking radical steps that might invite U.S. meddling, telling him that, after Khrushchev's strong public statement that summer, the U.S. "most likely, will not launch an intervention against you."
Today's posting includes the full, translated transcript of the Moscow meeting with Raul Castro, together with a record of Khrushchev's meeting with Fidel Castro two months later on the outskirts of the U.N. General Assembly meeting in New York City.
READ THE DOCUMENTS
THE NATIONAL SECURITY ARCHIVE is an independent non-governmental research institute and library located at The George Washington University in Washington, D.C. The Archive collects and publishes declassified documents acquired through the Freedom of Information Act (FOIA). A tax-exempt public charity, the Archive receives no U.S. government funding; its budget is supported by publication royalties and donations from foundations and individuals.