ANN: Documents on Nuclear Winter
From
National Security Archive

Nuclear Winter: U.S. Government Thinking During the 1980s

Defense Nuclear Agency Saw Nuclear War Producing "Atmospheric Trauma"
1988 Interagency Study Projected "Severe Disruption of [Food] Production, Processing, and Distribution"
President Reagan Allowed That Nuclear Winter Was "Theoretically Possible"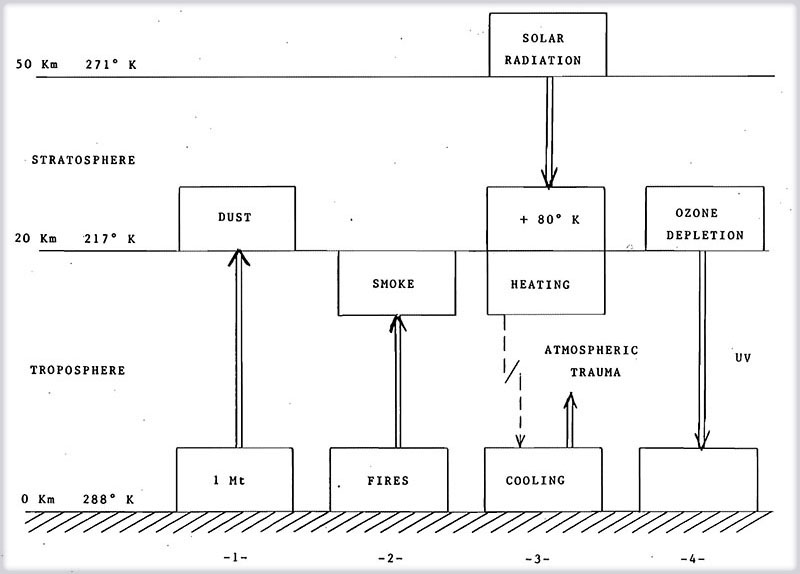 Washington, D.C., June 2, 2022 – The apocalyptic threats emanating from Moscow over the Ukraine war raise the terrible prospect of nuclear weapons use. The probabilities may be low, but if a major nuclear war occurred, the catastrophic impact of a so-called nuclear winter could be felt on a global scale.
Today the nongovernmental National Security Archive presents an assortment of government and contractor reports from the 1980s, when scientists first surfaced the nuclear winter theory.  These records describe preliminary efforts to explore the thesis along with related issues.  Although the topic quickly became politically charged, some high-level officials including President Ronald Reagan indicated that they accepted the concept was theoretically possible. 
Among the primary documents posted today are an early overview of the Defense Nuclear Agency's research program, published for the first time, concluding that a large-scale nuclear exchange could cause "atmospheric trauma" with "serious potential for severe consequences" for the weather and climate.  Also in the compilation are progress reports on the Lawrence Livermore National Lab's research agenda, and a CIA report from late 1984 on nuclear winter research in the former Soviet Union.
READ THE ARTICLE
THE NATIONAL SECURITY ARCHIVE is an independent non-governmental research institute and library located at The George Washington University in Washington, D.C. The Archive collects and publishes declassified documents acquired through the Freedom of Information Act (FOIA). A tax-exempt public charity, the Archive receives no U.S. government funding; its budget is supported by publication royalties and donations from foundations and individuals.