Restoration of Nike missile site near Carroll County
GALLERY:
https://www.baltimoresun.com/maryland/carroll/cctnews-nike-missile-site-120819-20191208-nemajsdztne5rlal3rshaiwnma-photogallery.html
https://www.baltimoresun.com/maryland/carroll/news/cc-nike-missile-cap-20191208-gnpb5ilh7jbl7kwytdra7fqbf4-story.html
GRANITE — At first glance, the expanse of faded blacktop at the back of a lot on Hernwood Road at the southeastern edge of Carroll County looks a lot like a parking lot, if you excuse the odd metal and concrete protrusions. And it actually has served as a parking lot at one point in its life.
But that was before the Civil Air Patrol moved in and discovered the piece of history in their new back yard.
"What's interesting about this site is it's also an abandoned Nike missile site," Civil Air Patrol CMSgt. Tom Reed said. "Nike missiles were anti-aircraft missiles. They were used during the Cold War to protect, for this area, Baltimore and Washington, [D.C.] from Soviet bombers."
<more-click article link>
Background
Nike Missile Site Restoration Project
http://mdwg.cap.gov/index.php/nike-missile-site-restoration-project/
History
http://www.themilitarystandard.com/missile/nike/ba79.php
Nike Missile Base BA-79, Maryland
GRANITE NIKE MISSILE BASE BA-79
Active 1954-1974
Just North of the historic quarrying community of Granite in Baltimore County, Maryland lies a field of abandoned radar towers, military barracks, and other buildings surrounded by chain link fencing and guarded by an empty sentry box. About a mile further north, a state police training agency occupies similar but refurbished barracks, parking cars and equipment atop cavernous underground magazines that once held nuclear-armed missiles and young Army and National Guard troops ready to launch them to defend against Soviet air and missile attack. Like hundreds of other rural and urban communities throughout the fifty states, Granite was host to an active Nike Missile Base for two and a half decades beginning in the early 1950s.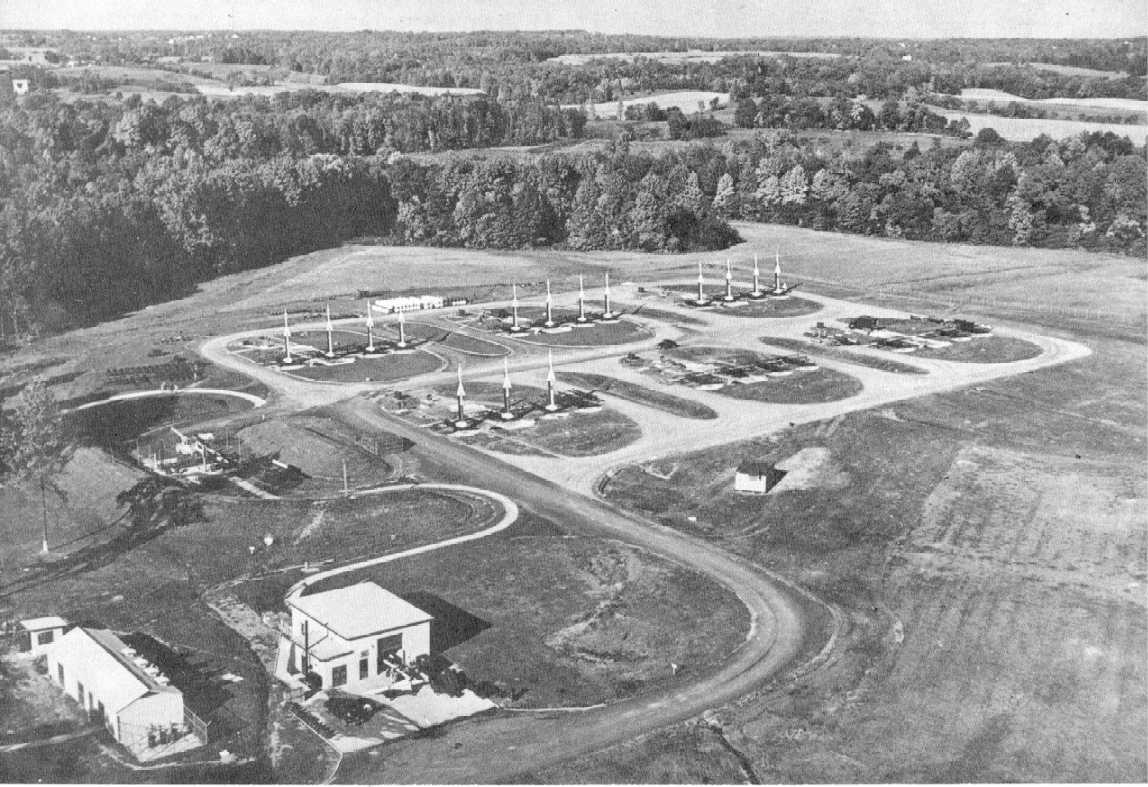 Planning for the Cold War defense of Baltimore and other U.S. cities began in 1951.
Supported by the Granite Historical Society, the Baltimore County Historical Trust, and the University of Maryland Baltimore County Department of History, Project Director and Granite resident Dr. Joseph N. Tatarewicz and a team of graduate student researchers conducted library, internet and archival research, recorded oral history interviews with participants, and performed cultural resources surveys of both sites during 1998–2000, documenting the state of preservation of all remaining structures through video tape and still photography.
Ed Thelen's Nike Missile Web Site
http://ed-thelen.org/loc-m.html
http://www.airfields-freeman.com/MD/Airfields_MD_Balt_SW.htm