Exhibition: What is Jewish Washington?
Capital Jewish Museum
575 3rd Street, NW
Washington, D.C. 20001
202.789.0900
Current Exhibition
https://capitaljewishmuseum.org/exhibition/what-is-jewish-washington/
What is Jewish Washington?
Ongoing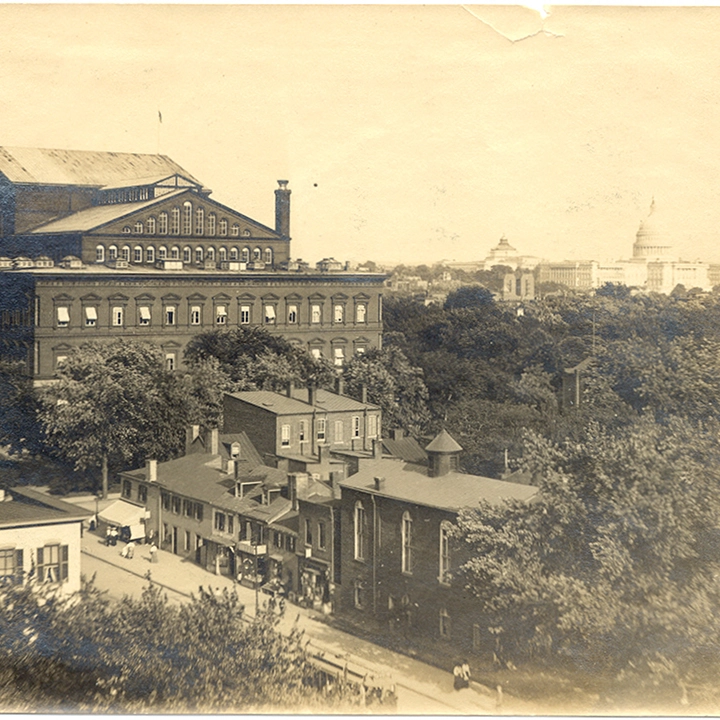 Historic Adas Israel synagogue (foreground) and National Building Museum, formerly the headquarters of the United States Pension Bureau, background, ca. 1905.
Location
Tickets
Free Timed-Tickets Required
Step into history—a 19th-century synagogue—as you explore local Jewish stories in DC and the Maryland and Virginia suburbs. This exhibition uses photographs, artifacts, and an interactive model to introduce visitors to the people and organizations that built this local community in the Nation's capital.
The first Jewish family arrived in DC in 1790. Where did they settle, and why? What jobs brought them to the area, and how did they form communities? Today, hundreds of thousands of Jewish Washingtonians populate the modern metropolis. How are they different from their predecessors? Learn about Jewish citizens of all kinds–government workers, business owners, philanthropists, and discover the broader Jewish community through their picnics, bands, summer camps, and grocery cooperatives.
Exhibition planning by Evidence Design along with a group of scholars and museum professionals began in 2018. The Design Minds, Inc. completed the project in 2022-23.