Hanoi in the Time of Cholera
During French Colonial Rule
Wed, May 20, 2020
12:00 PM – 1:00 PM PDT
Join Chopsticks Alley Art Tongue lecture series where we will bring to you an interactive art and culture immersion experience.

Michael G. Vann, Professor of History at Sacramento State University and author of The Great Hanoi Rat Hunt: Empire, Disease, and Modernity in French Colonial Vietnam (Oxford UP Graphic History Series) will share a glimpse into Hanoi, Vietnam and how it survived cholera between 1890's and 1930's.

You will be able to ask questions and relax in the comfort of your own home while learning about Asian art and culture.

Space is limited RSVP soon!

An email will be sent to all participants with the link to join the lecture 2 days before and 2 hours before the lecture begins.

 
https://www.eventbrite.com/e/hanoi-in-the-time-of-cholera-during-french-colonial-rule-tickets-105211610760?ref=enivtefor001&invite=MTk1ODg3NjgvbWlrZXZhbm5AY3N1cy5lZHUvMA%3D%3D%0A&utm_source=eb_email&utm_medium=email&utm_campaign=inviteformalv2&utm_term=attend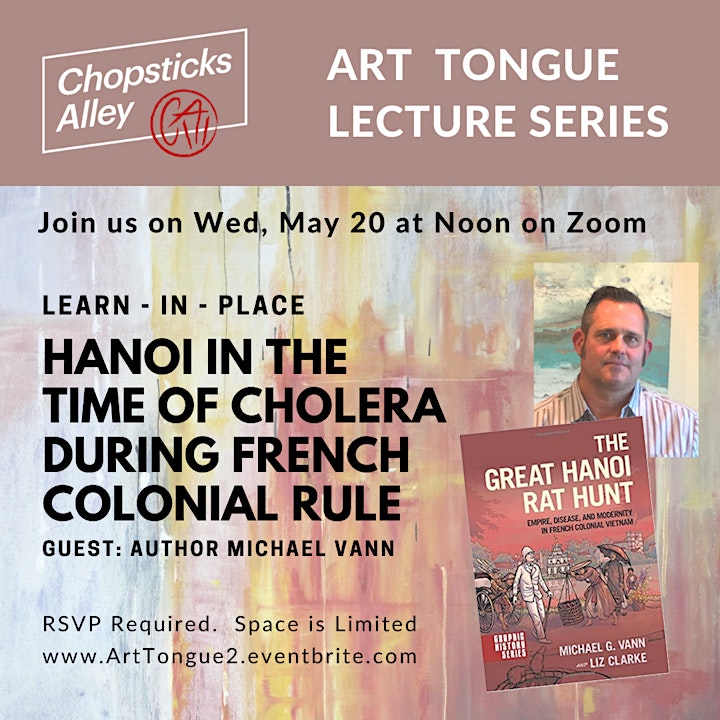 Michael G. Vann, Ph.D., Professor
https://michaelvann.academia.edu 
Department of History & Asian Studies Program
California State University, Sacramento
CSU Academic Council on International Programs
Host, New Books in History Podcast, New Books Network: https://newbooksnetwork.com/category/history/