Video: 'Shame' of Stormont history locked up in Belfast storage unit
3939
Jim Allister reveals Stormont art work at a lock up on the outskirts of Belfast on May 10th 2018 (Photo by Kevin Scott / Belfast Telegraph)
Click for video and complete article https://www.belfasttelegraph.co.uk/news/northern-ireland/video-shame-of-stormont-history-locked-up-in-belfast-storage-unit-36895616.html
By Victoria Leonard
May 11 2018
Gathering dust in a storage unit on the outskirts of Belfast, a treasure trove of historical artefacts integral to Northern Ireland's history lies hidden from public view.
Few would guess from the building's nondescript facade that it houses such impressive items as a £7,000 gilded throne, or the table where the Act of Union may have been signed.
The items were placed in storage in the late 1990s while Parliament Buildings was undergoing a major refurbishment, and ran up storage fees of £76,715.81 between 2011 and November 2017 alone.
Standing in a small room surrounded by an Aladdin's cave of portraits, ceremonial uniforms and ornamental clocks worth thousands of pounds, TUV leader Jim Allister, who began enquiring about the artefacts in 2012, says it is an "absolute shame" that the items are hidden away.
Last year, in response to a question from Mr Allister, the Assembly revealed that 32 of its artefacts valued at £45,000 are in off-site storage.
"These belong to the public, and yet the public are paying money through the Assembly to keep them in storage, so they can't see them," he said.
"It costs something like £13,000 a year to keep them in a warehouse.
"It's a scandal, an absolute shame — this is part of our history.
"There are portraits of the first Prime Minister Lord Craigavon in ceremonial uniform, the Second Prime Minister JM Andrews, the wig of the first Stormont Speaker Hugh O'Neill, the bell stand for the bell from HMS Ulster.
"All sorts of items of historical significance, yet they are hidden away.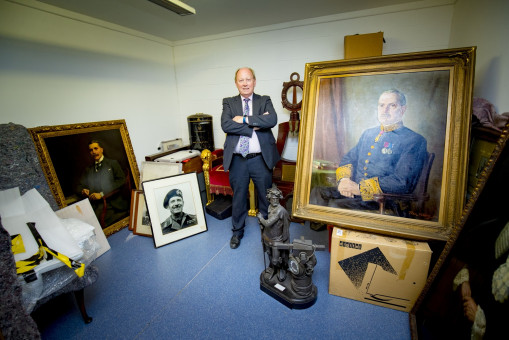 Video: Inside Stormont's secret treasure trove of art
source: Victoria Leonard
"You're looking at a collection which is in some senses priceless, of historic memorabilia which belongs to the public and yet has been hidden away from the public."
FROM:
Belfast Telegraph Digital