16 Oct 2019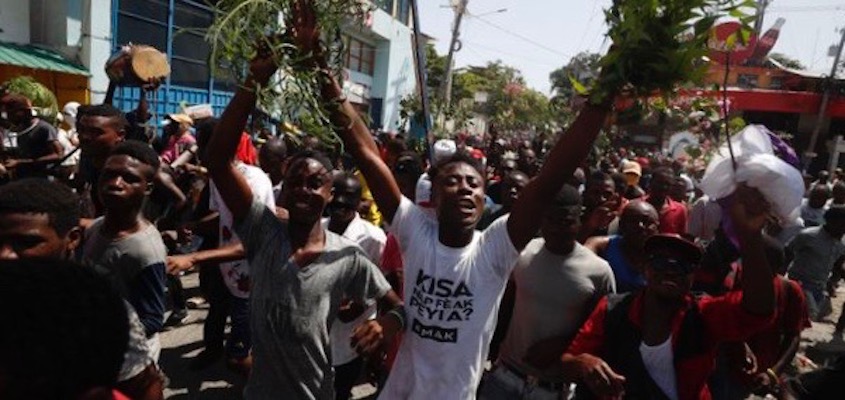 Haiti and the Convenience of Imperial Amnesia
The ongoing protests in Haiti are ultimately directed against the "Core Group" – US imperialism and its junior partners, who have teamed up to gang-bang the wounded and bleeding Black republic.
"The young people have been protesting under the idea that Haiti not only needs the resignation of President Moïse but also a full structural change."
Haiti is in the middle of the fifth straight week of anti-government protests that have effectively shut down the country.  Hundreds of thousands of people have taken to the streets, with one of the largest demonstrations in Haitian history taking place this past Sunday, October 13th. Makeshift roadblocks have been erected throughout the country, schools are closed and businesses shuttered, hospitals are barely managing, while agricultural goods from the countryside are unable to reach their markets, a situation acutely felt by Haiti's rural populations. Some seventeen  people have been shot and killed –by most accounts, by the Police Nationale d'Haïti—and more than 200 people  have been reported injured. A prominent journalist, Néhémie Joseph , was assassinated. 
The protests are not entirely new. They are a continuation of the reaction to the PetroCaribe scandal and the profound corruption of the current government. However, framing these current protests and the ensuing political crisis only through discussions of poverty and corruption – as many journalists and academics have been doing (with important exceptions ) – succumbs to an imperial amnesia. It is to forget the broad set of imperialist actions that created the conditions for protest. It is to perpetuate the easy narrative – the racialist tropes – of Haiti and Haitians as inherently corrupt and violent. It is to also condone the ongoing machinations on Haiti – the workings of an "international community" bent on keeping Haiti on its knees. 
Read more here: https://www.blackagendareport.com/haiti-and-convenience-imperial-amnesia