Vodou Probably Isn't What You Think
The religion has been maligned for much of its history. But some Haitian Americans are reclaiming the narrative through their own journeys with spirituality.
By 
Nadege Green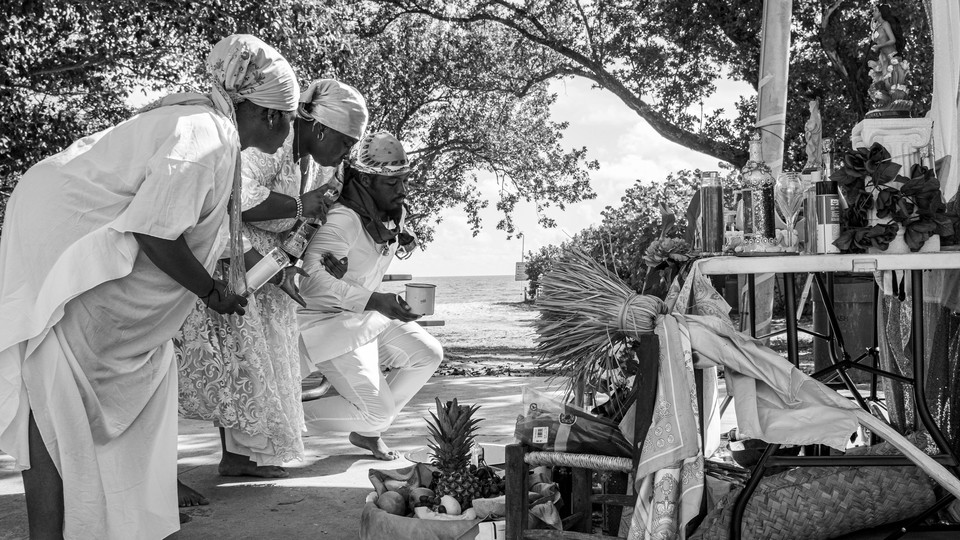 Alain Pierre-Louis (far right) leads a ceremony for the Vodou lwa Agwe in Miami. (Woosler Delisfort)
Though Alain Pierre-Louis grew up in a Haitian family that attended Catholic church services most Sundays, he always felt a spiritual pull toward something else. Vodou, a Haitian religion rooted in ancestral remembrance, nature, healing, and justice, was embedded everywhere in his Boston childhood—in the traditional rasin, or "roots," music blaring from the living-room speakers, and in the Haitian-folkloric-dance performances he would go to with his relatives. But though the art influenced by Vodou was celebrated, the religion itself was considered taboo and a nonstarter at home. "There was no explanation; it was just, 'No, you don't need to learn that,'" Pierre-Louis, a 31-year-old environmental educator, told me. "[My parents] wanted me to embrace my culture except that part, our spirituality."
Read the rest here: https://www.theatlantic.com/culture/archive/2022/06/vodou-haiti-misunderstood-religion/661...